Q: As a homeowner, why would I want an irrigation system for my property?
A: Your home is the single most expensive investment you are likely to make in your lifetime. An irrigation system will help insure that the exterior environment maintains its value and adds to the overall value of your property. It provides the assurance that your investment is sufficiently protected when mother nature doesn't cooperate!
Q: Is the installation of a sprinkler system expensive?
A: Each irrigation system is individually designed and tailored to your property. The cost of an inground irrigation system varies on the complexity and coverage of your design. The average installation is approximately $3,400. Keep in mind, a fully automated irrigation system will pay for itself in water conservation as well as the continual health and growth of your turf and plant materials.
Q: Do I need a well or other additional water source to operate the system?
A: An in-ground irrigation system can be deigned to utilize either city/town water or a well. Several towns in eastern MA will not permit their town water to be used for an irrigation system, only then will a well be necessary. A well is almost always a good investment, and we can help you find the solution for you water questions.
Q: What sort of damage to my lawn should I expect?
A: We use a great deal of caution during the installation and use machinery that minimizes turf damage.
Q: How long does the average installation take?
A: An average installation usually takes anywhere from 1-3 days.
Q: Will the installation disturb existing lawn or shrubbery areas?
A: Absolutely not. Several weeks following your installation, the only signs that anything has been installed will be your healthier plants and lawn. Pipe is "pulled" underground through a small slit in the earth; therefore, little is visible once the installation is complete. All the piping is underground and all the heads are designed to pop up while watering and recess when the system is not watering. This means that you can walk or mow right over heads and they will not be damaged!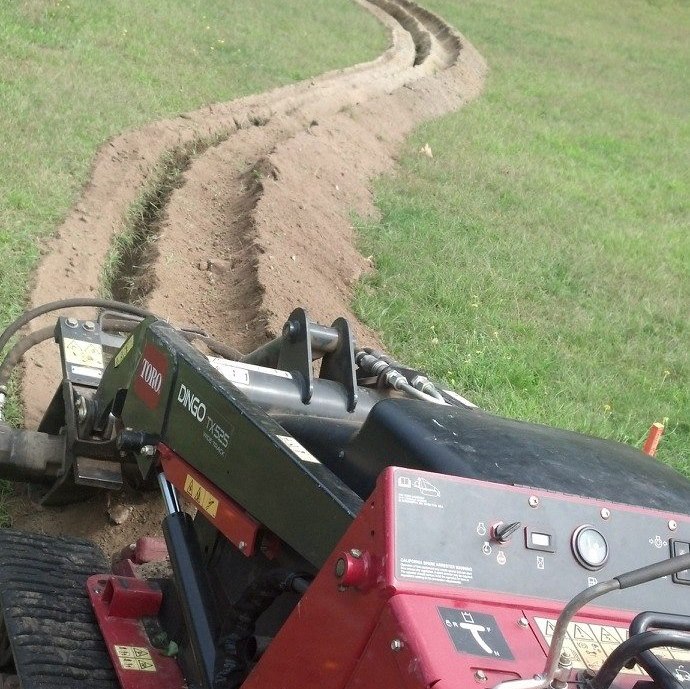 Q: What time of day should I water?
A: We recommend that you water early in the morning (completed before dawn), followed by an evening cycle only for new lawns. You should water in the middle of the day only if it's cool or if you have a delicate, new lawn that requires constant watering. This helps to ensure that your lawn won't be damaged by the strong rays of the sun when mixed with the fresh cool water. Evening watering (completed before dusk) is recommended only after several days of intense sun or heat.
Q: What happens if it rains, will the system continue to operate?
A: No. A professionally installed system comes complete with an automatic rain sensor. Your sensor is set to automatically shut off the system when the amount of rain reaches a certain level. Your system will automatically restart when the mechanism senses the appropriate level of dryness. This means that vacations away from home need not mean returning to brown lawns and stressed plants!