At Trinity irrigation we specialize in the precise & detailed installation of systems to meet the demands of your property. For the proper accurate design of your irrigation system we collect specific data such as:
Verification with local water authorities for irrigation restrictions and requirements of permits and inspections.
The location's actual environment, water, pumps, available water pressure.
Existing conditions such as precipitation expected.
Grade of the land, lighted or shaded areas and your complete landscaping including specific coverage area needs (such as plants, flowers, trees, etc).
Our staff is experienced in the quality processes of all installations.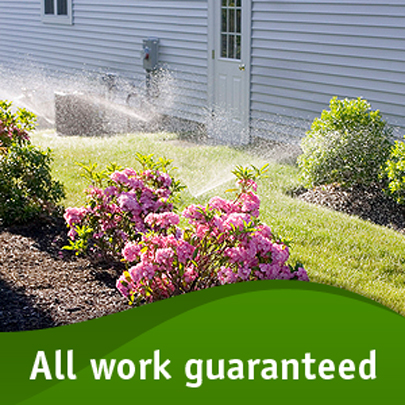 INSTALLATION PROCESS
After we received an approved estimate from a homeowner our team of professional installers using Rain Bird products, and top-of-the-line equipment, and hardware we will install the system with very minimal disruption to your lawn. The irrigation tractor pulls pipe underground, leaving only a narrow incision, that disappears in days!
We have quality versatile equipment allowing us to offer full service for your landscape projects. We can drill under walkways, trench, level, rototill, and move materials. After the job is completed we will show you how the system works, including the use of the controller. We are prepared for quality service from start to finish.
Why purchase an automatic sprinkler system?
SAVE TIME: Your system will do all the watering for you.
SAVE WATER: An automatic system uses less water than watering by hand.
SAVE MONEY: Your water bills will be lower and your plants will live longer.
REST EASY: assurance of quality, value, and performance.